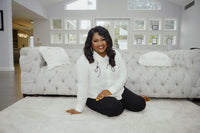 About The Author
Tara Rawls Jenkins, Ed.D. is a creative communicator of God's Word. Her messages often infuse spoken word, music and dance, utilizing secular cultural references to explain scriptural principles. She is a graduate of Clark- Atlanta University with a Bachelor of Arts in Mass Media Arts, Moody Bible Institute with a Master of Arts in Biblical Studies and Southern Baptist Theological Seminary with a Doctorate of Education in Leadership. With a passion to see women, wives, and girls empowered, Tara enjoys convening faith-lifting events. Tara is also the founder of MinistryMates.org , an organization that equips ministers' and pastors' wives for ministry. Tara resides with her songwriting/recording artist husband Charles and their three extraordinary children: Princess (18), Paris (17), and Charles III (12).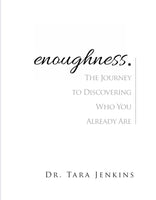 About #enoughness
Cute, not-so-cute, smart, not-so-smart, thin, not-so-thin, athletic, not-so-athletic – if you are breathing and moving around – you are labeled. Labels attach themselves to us from day one, when our parents decide if we are fussy babies or easy. While we don't understand why we are called this or that when we are young, somewhere early in life, we become aware of the words which are a part of society's definition of who we are. If we could only see ourselves as God does, beautiful, unique treasured creations – who are absolutely, perfectly ENOUGH for Him to work in and through us.
Know that there is something so much more to you than the labels that have been attached to you. The Bible tells us that God was speaking to Jeremiah, and He told him, "Before I formed you in the womb, I knew you; before you were born, I set you apart..." – Jeremiah 1:5. This isn't just for Jeremiah but for you and for me. Before we were a zygote, God knew WHO we were. He set us apart for a specific task, a particular purpose, a distinct role in His story. You are not an accident. While you may have been a surprise to your parents, you were no surprise to God. You have a unique spot in the universe that only YOU can fill. You matter. You alone matter. You matter today...right now. No decision or mistake changes the fact that you matter. You have a place, matchlessly suitable for the time in which you are living. And, most importantly, you matter to God.
I want to encourage you to take a journey with me – a journey to find the person within you who God designed and purposed you to be before you were ever born.
GRAB YOUR COPY TODAY!!!