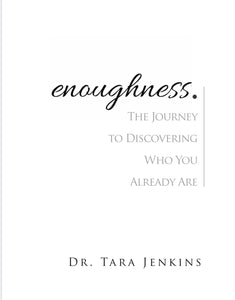 When you discover who you really are... who God created you to be-- the guesswork of wondering what you should do or how you should act simply evaporates. 
Realizing the clear intent of God's blueprint for your life dissolves your confusion, "Give yourself permission all your fears and insecurities. There is no longer any measuring yourself against others-- or being confined by the box they have built around you. As you become who you were divinely purposed to be, you find freedom in who you are! Your impact on the world starts to unfold...and every new morning brings the fulfillment you've wanted all your life.

Enoughness is the journey to the person deep within you. The person you've always been: a unique, custom-built child of God with a powerful, eternal purpose.

But finding the "true you" can be challenging. The narratives which others continually project on us as we drift along each day disable us, reminding us of what we lack or what others prefer us to be... and who we could never be. The result? You walk the way you've been told to walk--but you're stuck on the treadmill of life.

Today, everything changes! It is time to fill your heart and mind with the enoughness of who you are in Jesus Christ—Who, through His love, has perfectly proportioned within you every talent, every task, every skill you need to become the person you were created to be!
Enoughness allows us to stop the deception which tells us who we are NOT-- and begin to see clearly who we really ARE. Deposited within you and me is a rich, bold, and deeply meaningful future, but we must allow God access to withdraw it! Start living the life He has for you, RIGHT NOW... RIGHT HERE.
GRAB YOUR COPY TODAY!!!